A federal court jury found that Deschutes County and Sheriff Shane Nelson unlawfully terminated Deputy Eric Kozowski in retaliation for exercising his First Amendment rights to run for office and to speak out on matters of public concern.  The verdict awarded Kozowski $1,062,000 in economic damages.  The jury also found that Sheriff's Nelson's conduct toward Kozowski was malicious, and therefore awarded $10,000 in punitive damages against Nelson individually.
Eric Kozowski was represented at trial by Francis Hansen & Martin partner Michael McGean, and associate attorney Frances Zars.
Kozowski was a twelve-year law enforcement veteran with an unblemished record when he filed to run against sitting Sheriff Shane Nelson in the 2016 election.  Almost immediately after he filed to run, the Sheriff's Office subjected Kozowski to a series of 19 investigations over the course of the next 18 months before eventually firing him in January, 2018. A former employee of the Sheriff's Office testified at trial that Nelson had angrily spoken of his intent to fire Kozowski as early as 2016, during the campaign.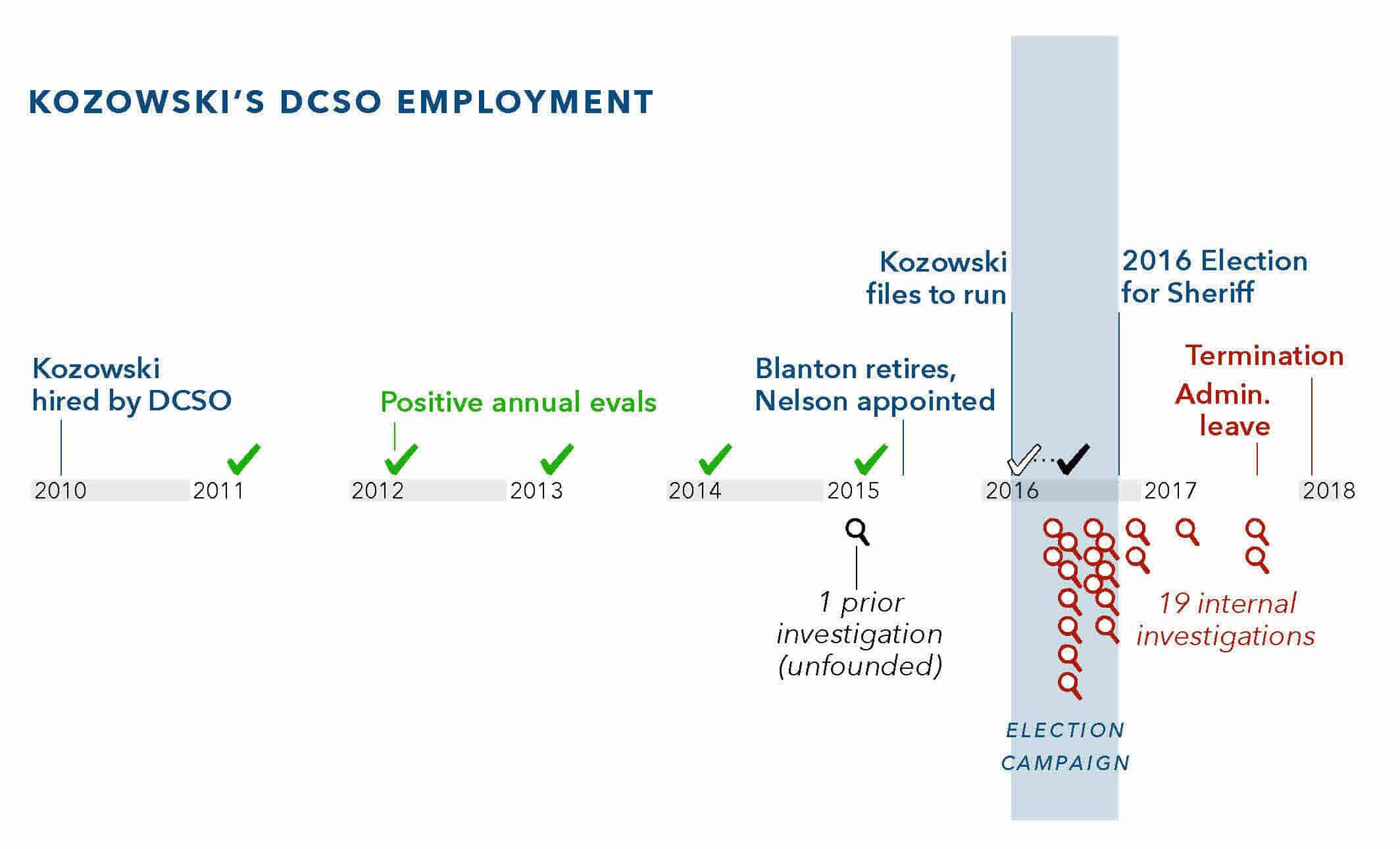 The Sheriff's Office delayed many of the investigations until after the 2016 election to conceal the appearance of retaliation.  Kozowski was never even told of many of the other investigations.  The U.S. District Court, Judge Michael McShane, had found that the Sheriff's Office violated its official policies and procedures by not timely completing the investigations and in not notifying Kozowski.
The August 2021 trial victory was the culmination of a case that began in February 2018 after Kozowski's termination.  Tens of thousands of pages of discovery were received.  Several key pretrial rulings required the county to divulge emails exchanged between county counsel and an independent contractor named Tim Moore whom the county had hired at the urging of the Sheriff's Office in 2016 to conduct the investigations against Kozowski.  Those emails revealed that the Sheriff's Office and Moore had failed to conduct the investigations in a neutral and impartial manner, and that Nelson and the Sheriff's Office continued to have influence over Moore's "independent" investigations.   They also revealed that Moore and the Sheriff's Office repeatedly ignored warnings from Deschutes County counsel to avoid excessively targeting Kozowski.  Further evidence showed that another deputy who was accused of similar misconduct as Kozowski but who had not challenged the sheriff was given a one-day suspension, rather than termination.
The FH&M team argued that the so-called "independent" investigations conducted by Moore but secretly controlled by Nelson were a sham designed to conceal Nelson's intent to retaliate against Kozowski.  The investigations and his eventual firing were meant to punish Kozowski  for running against Nelson in the election, and to send a message to anyone else within the agency who might challenge Nelson's authority.
After the six-day trial, the jury ultimately agreed with Eric Kozowski's claims against Sheriff Nelson and the County and rejected the County's defenses that Kozowski's termination was justified based on misconduct.  In addition to the damages awarded, attorney fees and costs were recovered.